This Takes Place Close By
Members of the music collective
thingNY
are in the studio to discuss the world premiere of
This Takes Place Close By
– an experimental opera exploring the reactions of isolated individuals in the wake of a devastating storm. Director Ashley Tata and two of the production's six composer-performers, Andrew Livingston and Jeffrey Young, sit down with Pete McCabe to talk about the process and essence of this collaborative opera.
This Takes Place Close By
was conceived in response to Sandy, Katrina, and other urban, natural disasters. Each character represents someone either victimized by the storm or searching for a way to cope with the damaging effects of the catastrophe, and their distinct vocal lines communicate the tension, pain, and solemnity of the story being told. Although crafted in an unconventional style for an opera (with a heavily character driven plot), the members classify
This Takes Place Close By
as an opera because it aligns with the Wagnerian ideal of the art form, in which each aspect (spatial, sonic, dramatic, etc.) are equally important.
Performances of
This Takes Place Close By
take place at
Knockdown Center, September 24-27, 2015
.
thingNY
is a quirky collective of New York composer-performers who fuse electronic and acoustic chamber music with new opera, improvisation, theater, text, song and installation. Founded in 2006 for an ad hoc festival in the historic Loew's Jersey City Theater, thingNY performs experimental sound works created collaboratively by the core ensemble. To bolster and support experimental performance, its members have curated the New Music Showdown (2013-2014) and the Immediacies Series (2012-2014).
RELATED PROGRAMS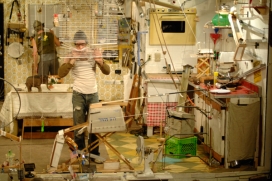 RADIO SERIES
Clocktower Radio's series of recorded HERE programming. HERE builds a community that nurtures career artists as they create innovative hybrid live performance in theatre, dance, music, puppetry, media and visual art through residencies, event production, and commissions.

Since 1993, HERE has been one of New York's most prolific producing organizations, and today, it stands at the forefront of the city's presenters of daring new hybrid art. HERE supports multidisciplinary work that does not fit into a conventional programming agenda. Our aesthetic represents the independent, the innovative, and the experimental: HERE has developed such acclaimed works as Eve Ensler's The Vagina Monologues; Basil Twist's Symphonie Fantastique; Basil Twist and Joey Arias' Arias with a Twist; Hazelle Goodman's On Edge; Young Jean Lee's Songs of The Dragons Flying To Heaven; Trey Lyford & Geoff Sobelle's all wear bowlers; Faye Driscoll's837 Venice Boulevard; Taylor Mac's The Lily's Revenge and original musical and dance works created and directed by HERE Co-Founder and Artistic Director Kristin Marting.

NB: Clocktower Radio was launched by MoMA/PS1 in 2004 as the Web's first art radio station. It has been independent since 2009 and is licensed to host content created under PS1 management. Programs produced prior to 2011 may refer to our earlier URLs and station IDs, including WPS1.org, artonair.org, and Art International Radio. For the complete history of Clocktower Radio, read our Mission & History section.
more
RADIO SERIES
A series highlighting lectures and presentations on social and cultural issues produced by
Knockdown Center
, and made available here in partnership with
Clocktower Radio
.
more