David Cote & Stefan Weisman, The Scarlet Ibis
David Cote librettist, and Stefan Weisman composer, discusses with Pete McCabe their new family opera The Scarlett Ibis, based on the 1960 story by James Hurst about brotherhood, illness and the power of the imagination. The piece is being developed at HERE Arts Center, where they are both 2011 artistic residents. They discuss the very interesting process of developing a new libretto and score, puppetry & singers, their history, contemporary opera and some of their previous work.
RELATED PROGRAMS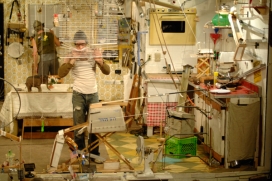 RADIO SERIES
Since 1993, HERE has supported multidisciplinary work that does not fit into a conventional programming agenda. HERE's aesthetic represents the independent, the innovative, and the organization has developed such acclaimed works as Eve Ensler's The Vagina Monologues; Basil Twist's Symphonie Fantastique; Trey Lyford & Geoff Sobelle's all wear bowlers; and Young Jean Lee's Songs of the Dragons Flying to Heaven.
HERE supports the work of mid-career artists working in hybrid theatrical forms through commissions, subsidized performance and rehearsal space, works-in-progress, workshop productions and fully-produced works. A primary focus of HERE is the work of its HARP (HERE Artistic Residency Program) Artists, who partake of a one- to three-year residency.
The New York Times has called HERE "one of the most unusual arts spaces in New York and possibly the model for the cutting-edge arts spaces of tomorrow." HERE aims to integrate art into daily life and engage the community's needs and interests on as many different levels as possible.
more