Prototype Festival: 33 1/3, Bluebeard
Host Peter McCabe talks to 2/3s of the
33 1/3 Collective
, a collaboration of Dutch artists Douwe Dijkstra, Jules van Hulst and Coen Huisman. In the form of multimedia environments and performances the group creates images, atmospheres and theatrical scenes. The stated approach is to visualize virtual, multi-layered and mysterious spaces that change constantly, primarily using projections to tell our own story.
First viewed by PROTOTYPE producers at Operadagen Rotterdam, 33 1/3 Collective's
Bluebeard
will have its North American premiere as PROTOTYPE Festival's first International work in a co-presentation with 3LD Art & Technology Center. Having successfully created and produced a number of multimedia projects, the 33 1/3 Collective was invited by the Voi-Z Festival Zwolle, in the Netherlands, to produce Bluebeard (Blauwbaard) in 2011.
The performances take place January 10-12, 2013 at 5pm & 8pm and January 13 at 2pm, 5pm and 8pm at 3LD, 80 Greenwich St. by Rector St. (212)647-0202.
RELATED PROGRAMS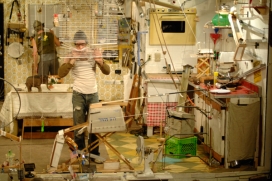 RADIO SERIES
Clocktower Radio's series of recorded HERE programming. HERE builds a community that nurtures career artists as they create innovative hybrid live performance in theatre, dance, music, puppetry, media and visual art through residencies, event production, and commissions.

Since 1993, HERE has been one of New York's most prolific producing organizations, and today, it stands at the forefront of the city's presenters of daring new hybrid art. HERE supports multidisciplinary work that does not fit into a conventional programming agenda. Our aesthetic represents the independent, the innovative, and the experimental: HERE has developed such acclaimed works as Eve Ensler's The Vagina Monologues; Basil Twist's Symphonie Fantastique; Basil Twist and Joey Arias' Arias with a Twist; Hazelle Goodman's On Edge; Young Jean Lee's Songs of The Dragons Flying To Heaven; Trey Lyford & Geoff Sobelle's all wear bowlers; Faye Driscoll's837 Venice Boulevard; Taylor Mac's The Lily's Revenge and original musical and dance works created and directed by HERE Co-Founder and Artistic Director Kristin Marting.

NB: Clocktower Radio was launched by MoMA/PS1 in 2004 as the Web's first art radio station. It has been independent since 2009 and is licensed to host content created under PS1 management. Programs produced prior to 2011 may refer to our earlier URLs and station IDs, including WPS1.org, artonair.org, and Art International Radio. For the complete history of Clocktower Radio, read our Mission & History section.
more