Edgar Oliver, Onstage & Off
Playwright, poet, and performer
Edgar Oliver
, known to followers of The Moth, La MaMa, Pyramid Club, and many other of downtown's more adventurous performance spaces and theaters, journeys through his personal history and future dreams with Pete McCabe. Born and raised in Savannah, Georgia, Edgar Oliver has lived and worked in New York City since 1977. He is a poet, playwright, and actor, and storyteller, who has been active in New York's downtown theatre and performing arts community since the early 1980s. He is also one of the most beloved storytellers of the acclaimed storytelling organization
The Moth
. The Moth's George Dawes Green has described him as "the world's greatest living raconteur." His plays, many of which were produced at La MaMa and in which he also performed as a stage actor, include The Drowning Pages, Hands in Wartime, The Ghost of Brooklyn, The Lost Bedroom, Motel Blue 19, Mosquito Succulence, The Poetry Killer, and The Seven Year Vacation. Edgar has also been a sought-after actor in myriad other plays, most notably with the
Axis Theatre Company
under the direction of Randy Sharp. Among his most important achievements are three acclaimed one-man shows: East 10th Street: Self Portrait with Empty House (directed by Randy Sharp); Helen & Edgar (directed by The Moth's Catherine Burns); and most recently, In the Park (also directed by Randy Sharp). Edgar has produced four collections of poetry, most recently,
The Puddle Boy
, published by Oilcan Press. He has also written a novel titled
The Man Who Loved Plants
. In collaboration with Oilcan Press and the members of the Brooklyn-based band The Octave Doktors, he has produced an album of poetry and monologues called
Desire & the Sea
, which is based on material presented at a live performance at Coney Island.
RELATED PROGRAMS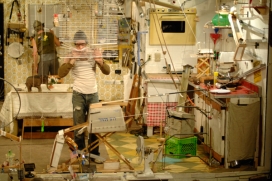 RADIO SERIES
Clocktower Radio's series of recorded HERE programming. HERE builds a community that nurtures career artists as they create innovative hybrid live performance in theatre, dance, music, puppetry, media and visual art through residencies, event production, and commissions.

Since 1993, HERE has been one of New York's most prolific producing organizations, and today, it stands at the forefront of the city's presenters of daring new hybrid art. HERE supports multidisciplinary work that does not fit into a conventional programming agenda. Our aesthetic represents the independent, the innovative, and the experimental: HERE has developed such acclaimed works as Eve Ensler's The Vagina Monologues; Basil Twist's Symphonie Fantastique; Basil Twist and Joey Arias' Arias with a Twist; Hazelle Goodman's On Edge; Young Jean Lee's Songs of The Dragons Flying To Heaven; Trey Lyford & Geoff Sobelle's all wear bowlers; Faye Driscoll's837 Venice Boulevard; Taylor Mac's The Lily's Revenge and original musical and dance works created and directed by HERE Co-Founder and Artistic Director Kristin Marting.

NB: Clocktower Radio was launched by MoMA/PS1 in 2004 as the Web's first art radio station. It has been independent since 2009 and is licensed to host content created under PS1 management. Programs produced prior to 2011 may refer to our earlier URLs and station IDs, including WPS1.org, artonair.org, and Art International Radio. For the complete history of Clocktower Radio, read our Mission & History section.
more
RADIO CHANNEL
Art conversations with working curators, artists, and musicians on topical issues.
more